Pellet Mill With Ring Die
Thanks for having chosen Kingman pellet plant of our company. To ensure correct use of the product, please read the operating instruction manual carefully. If you have any question, please do not hesitate to contact the marketing department or maintenance department of our company.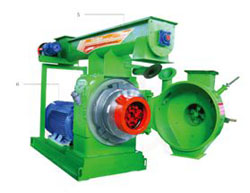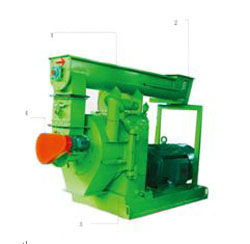 | | | | | |
| --- | --- | --- | --- | --- |
| Type | Capacity | Power | Ring Die Capacity | Pellet Specifications |
| HS420 | 1-1.5t/h | 95kw | 800-1000t | 6mm/8mm/10mm/12mm/14mm |
| HS508 | 1.5-2t/h | 115kw | 1000-1200t | 6mm/8mm/10mm/12mm/14mm |
| | | | | |
| --- | --- | --- | --- | --- |
| Type | Forming rate | Ability to operate | Noise | Dimensions |
| HS420 | ≧95% | ≧20h | ≦88dB[A] | 3300*1200*3943(mm) |
| HS508 | ≧95% | ≧20h | ≦90dB[A] | 3450*1470*4445(mm) |
| | | | |
| --- | --- | --- | --- |
| Type | Weight | Pellet energy consumption | Main motor speed |
| HS420 | ≈3t | ≈85° | 1000r/min |
| HS508 | ≈4.5t | ≈80° | 1000r/min |
Overview of the product
HS508 wood pellet plant is an original machine for pellet feed which has introduced special technology from the Germeny Company Münch. This machine is equipped with high quality die and rollers and has advanced technology. For driving system we use double motor V-belt, which is of little space occupation, uniform stress, simple structure and easy operation. Users can change motor and die to meet the needs of different production capacities and specs, thereby obtains ideal technology and economy effect.
1.1 Composition:
The wood pellet plant is mainly composed of three main sections, namely feeder, conditioner and the main set of pellet mill. The main set of pellet plant is made of such components as machine body, machine shell, main shaft assembly, quill main shaft assembly, die, roller assembly, cutting knife assembly, main motor driving system etc. (See drawing 1, the outside view of model KMPM520 wood pellet plant)
1.2 Structure characteristics
1. The die is made of excellent quality high-chromium stainless alloy steel forge piece. Through precision finishing and vacuum heat treatment, the die meshes get high finish degree and long using life.
2. The base of the whole machine is found of high strength cast iron, which ensures safe, stainable and reliable operation.
3. The main shaft is forged by alloy construction steel. It is of good strength and toughness.
4. Cast steel quill main shaft with the flywheel effect of the big pulley keep pelletization balanced, with low noise and nearly free from vibration.
5. The feeder, conditioner and pellet chamber are all made of stainless steel.
6. The independent cutting knife unit adopts tipped tool structure and has long using life. It can also adopt rotational flake knife structure with smooth kerf.
7. The machine shell is fixed by bolts which give convenience to installation, disassembly and maintenance.
8. Through lubrication tube, the roller can be well lubricated during operation.
9. Die lifting rig is optional for pellet mill according to your demand.
10. Each of the three main sections of the whole machine can be ordered separately.

Service Direction
1. All damaged spare parts of wood pellet plant can be repaired or replaced in one year within one year after it's sold and delivered, except failures caused by users themselves or normally scrapped wearing parts.
2. Some parts in the wood pellet plant bear great loads and are very easy to wear. Therefore we recommend users to prepare some necessary wearing parts in storehouse. Our company will provide whatever users need in time.
3. Users should obey the rules in this manual strictly during the process of installation, using, operation and management. If you have any questions about it, send staff to our company for free training and we will make no stranger to them. If users ask us go to your place for instruction and training, we can send our technicians there but we will charge for some traveling and training expenses.
4. Pellet plant is one of the most important devices for feed factory, so please keep, use and repair it carefully. After several years of use, wood pellet plant must be repaired greatly. If users are not able to repair it, our company can serve for you. There are two cases:
a). Carry the machine back to us. We will repair or replace some spare part according to actual condition, and make it reach the original capacity after assembly, adjustment and spray paint of the surface.
b). List the spare parts which have to be repaired or replaced and we will manufacture them for you. Users can assemble and adjust them on your own, or invite our technician to go there for instruction under your cooperation. And you can also invite our ship-fitter to go to your place for assembly and adjustment until trial run and discharge feed. The relative expenses should be paid by users.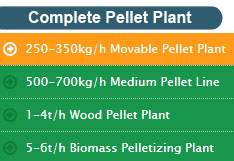 Quality Guaranteed