Complete of Wood Pellet Mill Flowchart:
Pelletizing is the process of making waste materials into solid fuel. The objects are used for burning purposes. Wood Pellet is one of the most commonly used pelletizing materials.

Raw Material Pulverizing System Dry SystemPelleting System CoolingSieving /Bagging system

(1) Pellet Mill : Pulverizing System

When the thickness of raw wood material is >10mm, and >50 * 50mm(L * W), we need use the Wood Chipper to chip them into small pieces, then crush the small pieces into wood powder with diameter less 3mm by Hammer Mill (Crusher)

(2) Drying System

The best moisture content to pelletizing is about 13-15%. Our Rotary Dryer is made up of Stove and Main Rotary Dryer, which can realize to reduce the moisture from 60% to 10%. Our stove is fueled by coal, which can save electricity consumption largely.

Heat Stoves

Dust Filter

Conveyor

(3) Pelleting System

Driven with heavy- duty gearbox construction can produce continuously in most adverse condition. The imported key elements are of high performance with long life and low maintenance cost. The key parts are made of alloy steel to be very strong and malleable. Die is made of stainless steel. Pellet machine is widely used in the granulation of wood, straw, other biomass sources. capacity ranges from 200kgs to 3T per hour.

Pellet Mill

Spare Parts Dies &Rollers

Steam Boiler

Magnetic Separator

(4) Cooling /Sieving /Bagging system

After the pelletizing process, the temperature of the wood pellet is about 60-80 degree, and the moisture content of the wood pellet is about 15%, so we need use Cooler to reduce about 3-4% moisture, such this the wood pellet is easy to store.
After cooling, the wood pellet will not directly enter into the fuel process, avoiding the wood pellet affected with damp. The packing process is necessary. In this process, we assemble our domestic best Semi-Auto Packing Machine to you.

Cooler

Dust Filter

Packing Machine

Magnetic Separator

NOTE: PLC System

The Whole System adopt Siemens PLC controller, include motherboard, input & output module, software. MCC adopt Touch Panel, Simulation Control Screen or Computer Control Screen is optional.Automatic Moisture online testing, Automatic dosing, Automatic Lubricating, Automatic Steam supply, Lower Labor cost. 24 hours continuous working.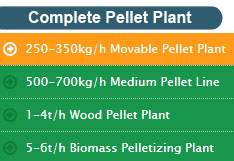 Quality Guaranteed